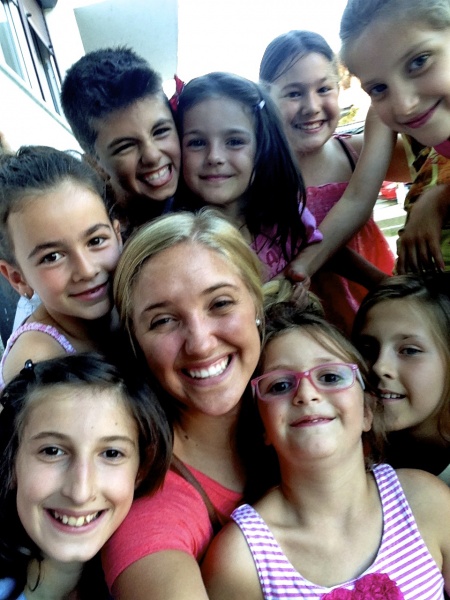 BYUH Intern Kasha's Kosovo Blog!! August 2014
Aug 15, 2014
Kosovo. A country that a year ago from today I embarrassingly admit I had no idea existed. Now in just one month Kosovo has become a place I will never forget.
When getting off our plane in Pristina, we were just three Americans and one Canadian ready for an adventure. When explaining to the friendly strangers in the airport that we were here for an internship their response was, "Why Kosovo?" Our reply was simple, "Why the heck not!" We have been working with the Shropshire Music Foundation all last semester prepping and preparing for the opportunity to travel to this beautiful country and work hands on with the kids. So far our experience has been far more than we could have expected.
Every morning we wake up bright and early and get ready to be inspired by the children of Gjakova. Whether it's working with our hyper school kids, our sweet ones who were raised in the refugee camps or our wild Roma kids, we never fail to leave them without huge smiles on our faces and a strong desire to hurry back. One of the most frustrating parts has been not being able to speak Albanian however; we have found different ways to communicate through laughter, smiles and of course music. Every day we teach them how to read music as well as play the pennywhistle or harmonica, and let me tell you, these kids are great. It has been inspiring to see how dedicated and excited these kids get when playing or singing the music. We have also been focusing on teaching the kids kindness. Being brought up in a country so recently wounded by war has made these kids a little rougher than most. Liz Shropshire took notice in this and doesn't just have us teach the kids how to play an instrument and sing, but we also teach them the importance of being kind and loving towards one another.
Another beneficial aspect of this internship has been getting to know and working with the local volunteers here. These kids vary in ages from 13-24 and each have such a dedication and love for this organization. Some were participants in it when they were younger and others have just recognized a good cause and hopped on board. They sacrifice their time, money and love for absolutely nothing in return and yet never seem to complain and continue to help with their whole hearts. They are all so patient with the kids and have really taught me how to love unconditionally. Kosovo has become a place I will never forget but only because of these volunteers who have become the people I will never forget and will truly deeply miss.
Our time here is coming to a close much too soon but I can speak for all of the volunteers here and say that this country has helped us grow in ways we never expected. Kosovo is a place that has been through a terrible bloody war that left it slightly broken but the people here are strong and little by little are healing themselves. There is so much heart and passion here in this little country and I feel more than blessed to have been able to live in such a wonderful place.