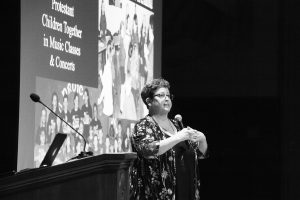 Liz Shropshire Receives Prestigious BYU Alumni Achievement Award
Oct 05, 2017
Press Release by Monica Clay

Liz Shropshire, Director of the Shropshire Music Foundation, was awarded the 2017 College of Fine Arts and Communications BYU Alumni Achievement Award.
The Alumni Achievement Award is given to BYU graduates who have significant professional accomplishments. According to their website, BYU awarded Liz the honor for her "powerful and long-lasting contribution to children around the world."
Liz was also invited to give a special lecture on campus entitled "Teaching Children Peace Through Music: The Life-Changing Impact of Music Education for Children in War Zones."
Read more about her lecture and her award at the following links:
Changing Children's Lives Through Music
BYU Fine Arts and Communications
How to Achieve Peace Through Music is Focus of College Alumni Lecture
BYU School of Music
Changing Children's Lives Through Music
Daily Herald
2017 BYU Alumni Acheivement Award Honorees
BYU Website