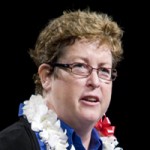 Liz's First Blog!
Jan 26, 2010
I've been traveling and speaking a lot for SMF over the last few months. Orlando, Utah, Jacksonville, University of N Texas (UNT), Eastman School of Music, BYU Provo, and Los Angeles. The 3 universities have been amazing. Eastman and UNT both have started clubs to support SMF, and I'm hopeful that BYU will do this as well. The support we are getting from these university students is amazing.
They really catch the vision of what we are doing and why it is so important. I hope to get them more involved in our programs in the future.
The Eastman students did 3 separate fundraising campaigns in December. First, they set up a table in the main hallway of the school asking for donations. Then, they
took student groups to perform Christmas Music at a local shopping center, with signs asking for donations for SMF. And when they headed home for the holidays, many of them put on concerts in their hometowns. They played the SMF video at the concerts, they talked about the importance of the mission of SMF, and they asked for donations. In total they raised $1,862.
Next week I'm headed to BYU Hawaii, where I will address the entire student body in a devotional. I'm really excited about this. But I have to make our movie a bit shorter so it can be shown both in the live devotional and also in the rebroadcast on BYU TV. So that is my project for this week!