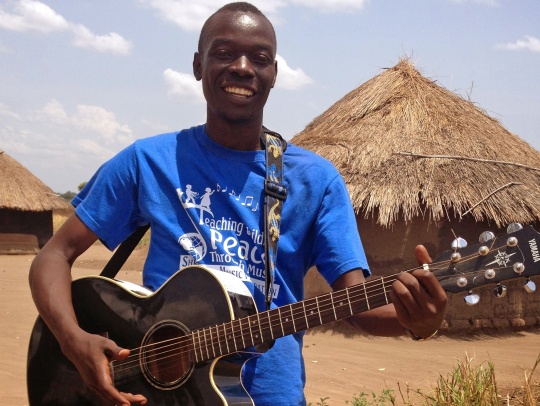 Ugandan Volunteer Blog by Okello Innocent
Jun 11, 2014
I have been with the Shropshire Music Foundation for many years and I have experienced a lot.
I like the program because it has helped me in so many ways. It has helped me to know challenges that my fellow students faced and it has helped me to achieve some of my goals, like teaching children peace through music.
It's a very good program for children and youth. I remember one day when we went to Pabo and the street kids [children who don't get to attend school] were crying. We called to them and they came to our music classes and then they were happy and smiling. They have loved us since then and every time we go there, they want to come to our classes. I think we changed their lives. There are so many street kids who hear us singing and we always invite them to be in our classes and once they come they never stop.
There is a guy who used to live in the streets because of an argument he had with his family. We invited him to join our program at Awere High School. He learned so much about peace and love through our songs like Peace Like a River and other peace songs that he decided to go back home and never went on the streets again. I saw him not long ago and he now has a job and his life has changed.
This program is good for kids and teenagers because it helps them to forget what has happened to them in the past. I suggest that many join SMF because is a good foundation for the children and youth. When they come to join us they will see that it will bring peace, because with the kids you can bring peace and without peace life is hard.
Note from Liz: Innocent would love to attend Teachers' College but can't afford the tuition, which is very low (about $100 per year). If anyone would like to help him, please contact me at liz@shrophirefoundation.org